Advertising
Playa Dominical
At the present time, in town and the surrounding area, many hotels, bars, and restaurants are being built. Almost any business that meets the demands of the local and foreign community grows quickly.
Dominical Beach is famous for its surf, and on any given day you will see local "surfistas" as well as foreign surfers hunting for perfect waves or just hanging out in a very relaxed atmosphere. Dominical is recognized by the surfing community at the world level and every year local and international surf championships are held here.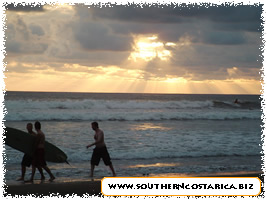 Another nice feature of Dominical is the wide lake that has formed at the outlet of the Barú River, where you can fish or swim. Many also take a boat or go tubing down this calm and clean river. It is about 4 to 5 km long trip and gives one a chance to relax and observe the beautiful flora and fauna that abounds here.
The Beach in Dominical is also very clean with a water temperature neither too cool, nor too hot (+ / - 80°F), it is simply perfect, and this is characteristic of all the Beaches along the southern Pacific coast of Costa Rica. There are also many conservation projects that have been developed. If you would like to be involved in some, contact the Dominical Social Programs (recycling, reforestation, protection of mangroves and ecosystems, protection of marine turtles, Tel. 787-0205, 787-0081, 787-0260)
Where to eat or stay: In town and in the surrounding area there are an abundance of hotels, ranging from luxurious to very simple. You will be able to search hotels ussing our advanced search in top of any category.
Or you can also rent a Vacation Rental House in Dominical, where you will have all you need, luxury, security and beauty.
If you want something with cooking facilities or other lodging option, you can thinki in a cabin for you and your family.
Prices will vary depending on the time of year and location. If you are looking for affordable, ask for a "cabina". Lodging prices will range anywhere between $7 and $200 per night.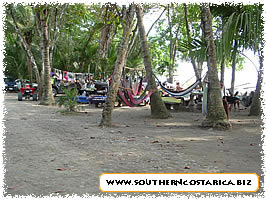 For more information about all Dominical Options and Business, please visit the Dominical Portal.
Getting there:
First: You will have a good Idea of the distance and the road if you use our Costa Rica Distance Calculator and Map .
You can take 2 different roads:
1. The Costanera Road: From San José you have to drive to Jacó - Quepos, then continue for the same way and Dominical is at 45 km South of Quepos. All this road will be near the beach at your right side.
2. The Panamerican way: You can drive in route to San Isidro Pérez Zeledón, this is the mountain road, you will be passing the highest mountains in Costa Rica, the weater is "cold", no, it´s fresh and full of wonderfull views, once you are in San Isidro, you have to take a right in McDonald´s, then go straight in this way to Dominical at 35 km of San Isidro de Pérez Zeledón.
This is the Dominical Bus Schedule.
What to do: Practice bodysurfing or go boogie boarding, sport fishing, camping, kayaking, swimming in the ocean or rivers, tours to the Islands, horseback riding, go out dancing, rent bicycles, scuba-diving, soccer or Beach volleyball, horseback riding for about $8/h, surf lessons for about $20/h (Green Iguana Surf Camp) or rent a surf charter for about $15/day. You can also participate in some of the social programs, take Spanish lessons, or look for beautiful ocean view property!...
Activities that are prohibited: Swimming where the lifeguards indicate that it is dangerous, throwing garbage on the Beach or in the streets. The maximum speed limit in town is 25 km/h. Driving of motor vehicles is prohibited on the Beach (according to law of traffic #7331). Hunting or the abuse o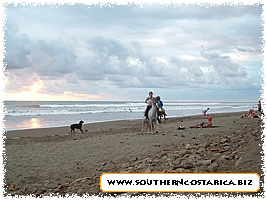 r pursuit of wild animals such as garrobos, iguanas, birds, as well as fishing with poison is also prohibited. Bonfires are also restricted as much of the firewood is home to many creatures.
Tours: The area offers many types of Tours to Caño Island, Violines Island, Ballena Island, sport fishing, surfing, kayaking, Mangrove tour on the Sierpe River, Corcovado National Park, Mt. Chirripó, Night in the Jungle tour, Canopy tour, Nauyaca waterfalls.).
Nightlife: The nightlife heats up on the weekends, or on special occasions, at places like Roca Verde, Rancho de Coco, San Clemente (San Clemente Cabinas, Bar & Grill (tel.787-0055) and a few others. You can also drive about 30 min inland to San Isidro, which is a larger city where you will find many more options for bars, restaurants, discos, etc.
Features
Map
(0) Comments
Add Comment

Close
Be the first to comment on this listing!