Advertising
Playa Hermosa
The blue, gray colors of the ocean mix in such a way that is always spectacular to look at! Located between Playa Uvita and Dominicalito, it is a good place to take the family, since the waves there are not strong and there are not many currents.
One can play in the gentle waves and then rinse off the salt water in the fresh water pools formed by rivers at either end of the Beach.
Playa Hermosa is clean, with plenty of palm trees where you can hang your hammock and relax or read a good book.
Also, if you enjoy fishing, you can fish off shore or in the river that is visited by many fishermen. Because it lacks basic services and tourist infrastructure for the time being (2005), Playa Hermosa is one of the most tranquil in the area. .
Getting there: it is located about 14 km south of Dominical.
Available services: hotel project in development.
What to do: Practice body surfing or go boogie boarding, fishing off shore, camping, swimming in the ocean or river, observation of birds and marine life, horseback riding, scuba diving, Soccer or Beach volleyball.
Activities that are prohibited:: swimming where the lifeguards indicate that it is dangerous, throwing garbage on the Beach or in the streets. The maximum speed limit in town is 25 km/h. Driving of motor vehicles is prohibited on the Beach (according to law of traffic #7331). Hunting or the abuse or pursuit of wild animals such as garrobos, iguanas, birds, as well as fishing with poison is also prohibited. Bonfires are also restricted as much of the firewood is home to many creatures.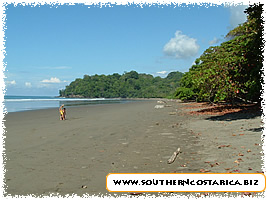 Features
Map
(0) Comments
Add Comment

Close
Be the first to comment on this listing!